Tasmanian Schools Regatta and Youth Championship Wrap-Up
by
The Leven Yacht Club in Ulverstone hosted the 2015/16 Tasmanian Schools Regatta and Youth Championship over the weekend.
Thirty five boats entered crewed by young sailors from around the state many sailing on behalf of their schools in teams of three boats.
Yachting Australia Regional Manager for Tasmania, Richard McMinn said that is one of the larger fleets to compete over recent years.
"The number of competitors was a great result considering the distance a lot of teams needed to travel to compete," McMinn said.
Racing was delayed at the start of day one for nearly an hour on day one as the race committee waited for the forecast north westerly wind to settle in. As the clouds finally cleared the breeze came in building to ten-to-fifteen knots and picked up a bit of swell which would keep the crews busy for the remainder of the day.
Unfortunately for local Ulverstone High School sailor, Sam Norman, his Mosquito catamaran was dismasted early in the first race as he led the fleet to the first mark leaving the way open for the Hobart and Launceston pairing of Jasmin Galbraith and Chloe Fisher representing Launceston Grammar to take line honours in their 29er skiff. They followed this up with line honours again in the second race.
In the hotly contested eleven boat strong Laser Radial dinghy fleet, Hutchins School's, Sam King, sailed well throughout the day taking line honours in all four races. Ryan Moreton and The Friends' School representative Max Gluskie finished equal second in points with Moreton coming out ahead in the countback.
Ulverstone High School students Fyn Harding and Isaac Shipp made great progress coming to grips with their newly acquired B14 skiff over the course of the weekend coming from last place in the first race, due to gear damage. They managed to work up through the placings with a twenty fourth, eleventh and fourth as the regatta progressed.
Racing was cancelled on day two as conditions deteriorated beyond a level safe for competition.
In the overall yardstick placings, Galbraith and Fisher proved dominant being the top placed female crew and overall winners by a good margin.
Second place and top ranked male crew went to Will Wallis and Will Sargent representing The Friends' School also sailing a 29er. King took out third in his Laser Radial.
The winning team were the students from The Friends School who sailed consistently well all weekend.
Individual Results
Team Results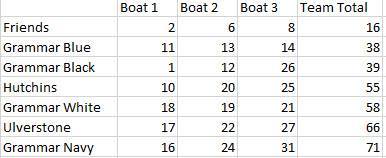 Last Modified on 02/05/2016 15:01