2016 Queensland Youth Championships begin today!
by Kate Lathouras
The 2016 Queensland Youth Championships kick off today, Friday 23 September 2016, from Keppel Bay Sailing Club. With record entry numbers in both the development camp and the Championships along with 3 days of top quality coaching, this year's regatta is sure to be exciting!
The development camp was completed over three days in fairly unseasonable weather with breezes not committing to a single direction but with light to moderate breezes. Daily camp requirements included a morning fitness session with Danny Fuller, Queensland Sailing Team's Laser coach and professional personal trainer. Following this each class would separate with their designated coach for a briefing explaining what their double on- water sessions would consist of.
Brent Pearson, Sports Coordinator for Keppel Bay Sailing Club and Sabot coach, explained that the recent global trend in shortening races requires an adjustment in coaching sessions,
"Dinghy races are becoming more energetic with shorter races so we've placed an emphasis on starting practice and boat handling in training."
Pearson also accounts the development of the youth sailors to the hard work from all the volunteers,
"Working at the Club it's amazing the see the collaboration an enthusiasm from all the volunteers, parents, coaches and competitors. The camp, let alone the Championships would not be possible without everyone's input and allows the youth sailors and families to get the most out of these events."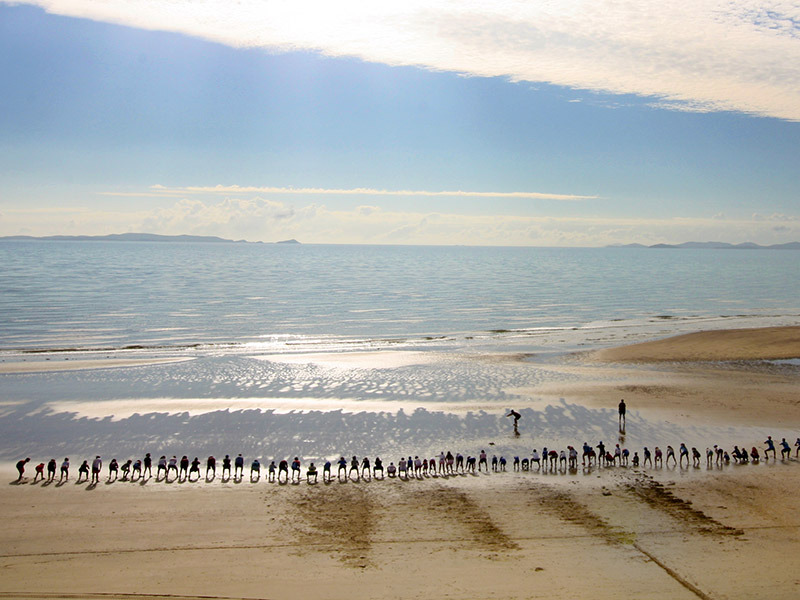 These youth sailors were able to see the direct impact of hard training and giving back to their community when the camp was visited by Rio 2016 Olympians Jake Lilley and Ashley Stoddart. They were able to come out on the water to coach a number of youth sailors including those in the Green Fleet program. This year's Green Fleet saw 14 junior sailors tackle the OziOpti on the Causeway Lake, a short bus ride away from the main club.
In addition to providing some coaching to the youth sailors Lilley and Stoddart were the main attraction of the Sportsman's Dinner. Here they explained to the youth sailors that they started their campaigns at this age where they would go to camps like this and they emphasized to the audience of sailors to 'Set your goals and never give up on them.' With that in mind the youth sailors are ready to begin Queensland Youth Championships tomorrow and will see tough competition out there.
This year's championships will see the return of a number of boats including 2015 Queensland Youth Championships winner in the Laser 4.7 Class, George Morton in Stratocaster who will aim to retain his 4.7 title.
Also to watch is U13 Open Bic World Champion, Travis Wadley, who will be competing against sister, Breanne, also in the Open Bic. Kristen Wadley has since transitioned from an Open Bic (after placing 2nd in the Under 16 Open Bic World Championships) to a Laser 4.7 and hopes to give Morton a 'run for his money.'
The 29er and 420 fleet see a number of relatively new teams step up to the competition. With training camps and regattas of this caliber the standard and capacity of the fleet will surely be growing at a substantial rate
The regatta begins today, to follow this event use the links below:
Website: www.youthchamps.org.au
Results and Race Documents: Click here
Daily Photos: Click here
Facebook: https://www.facebook.com/AusYouthChamps/
Twitter: https://twitter.com/AusYouthChamps , #AusYouthChamps, #AusYouthSailors
Instagram: https://www.instagram.com/ausyouthchamps
Photography - Keppel Bay Sailing Club
Last Modified on 23/09/2016 10:33